Tesla always has a fantastic selection of car wheels for its vehicles. Nonetheless, it's odd that they only provide three different wheel options for the Tesla Model Y, including Gemini and Induction wheels.
The argument between the two long-range wheels, Gemini vs. Induction wheels, is ongoing.
The automobiles for the other two types can cost up to 5,000 US dollars more than the Performance Model. Also, the Performance Tesla Model Y is purchased for its superior appearance.
Yet, those who don't want to spend a lot of extra money or buy winter tires typically favor long-distance wheels.
What is the difference between 19 Gemini and 20 Induction?
Gemini vs. Induction wheels
Both a Long-Range All-Wheel Drive and a Performance Tesla Model Y are available. The 20-inch Induction wheels can also be used to drive the Long Range Model Y, which comes standard with 19-inch Gemini wheels. The larger, 21-inch Uberturbine wheels, which are not offered with the long-range option, are included with the Performance option.
Model Y long-range vehicles come standard with 19-inch Gemini wheels.
20-inch Induction Wheels are an additional $2,000 option for the Model Y long-range.
The Performance Model Y comes standard with 21-inch Uberturbine wheels.
It is not unexpected that there are just two options for the long-range Model Y and only one for the Performance option, as Tesla is not known for providing a lot of variation when it comes to wheels for its many models.
The ultra-exclusive Uberturbine wheels will be installed on your car if you buy a Performance Model Y.
The extra $5,000 that the Performance Model Y costs above the Long Range model might be too much for the Uberturbines and other luxuries. All three Tesla Model Y wheels have modest variations, as shown in the comparison below:
255 mm tread width, 45 sidewall ratio, 28.04-inch outer diameter, and 4.52-inch sidewall on a 19-inch Gemini wheel tire
20-inch Induction: 4.02 inches of the sidewall, 28.03 inches of outer diameter, 255 millimeters of the tread width, and a 40 sidewall ratio
21-inch Uberturbine: 275 mm tread width, 3.79-inch sidewall, 28.58-inch outer diameter, and 35 sidewall ratio
The 19-inch Geminis have slightly larger sidewall and outer diameters than the 20-inch Inductions, which might result in a smoother ride and affect comfort. Depending on the color of your Model Y, a bit more comfort and a better range with the regular wheels can mean sacrificing style.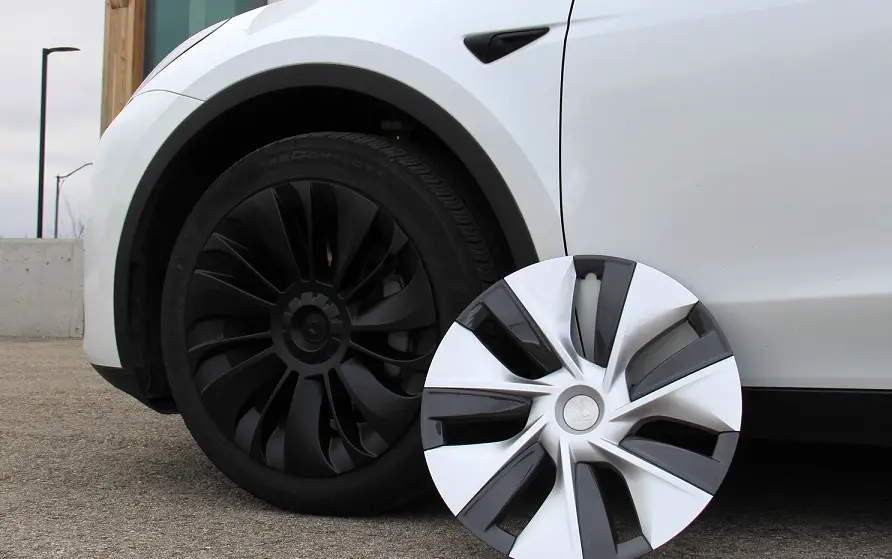 What is Gemini wheel?
On the Tesla Model Y Long Range version, the Tesla Gemini wheel is regarded as the standard. Tesla Gemini wheels have the following measurements: 255 mm tread width, 45 ratios on the sidewall, 28.04-inch outer diameter, and 4.53-inch sidewall.
A Tesla Gemini has a slightly larger sidewall and outer diameters than a Tesla Induction wheel. It improves the comfort and smoothness of the ride.
Given that they are standard equipment on the base model and an option on the Long Range model, Gemini wheels are more common on the Y model. Pros and drawbacks are as follows:
Tesla Induction wheels
The Long Range version of the new Tesla Model Y is also compatible with the Tesla Induction wheel set. But it isn't the typical one. To purchase the Induction wheel set, you must pay an additional $2,000.
Tesla Induction wheels have the following measurements: 255 mm tread width, 40 ratios on the sidewall, 28.03-inch outer diameter, and 4.02-inch sidewall.
Although perhaps not as comfy as Gemini wheels, these wheels go well with the Tesla Model Y. This is your preferred choice if you fall into the category of appearance-oriented people.
For $2,000, Induction wheels are an add-on for the new Tesla Model Y Long Range. In addition to being seen as the more fashionable and contemporary of the two wheels, they have bigger diameters.
What are the best wheels for Tesla Model Y?
Gemini vs. Induction wheels
The two wheels were made for various uses. As a result, they both experience highs and lows. However, let's compare Gemini vs. Induction wheels to determine which one would be more suitable for your Tesla Model Y.
Looks
The Induction wheels will always win out in terms of looks. It's because the Induction wheels were designed specifically to give your Tesla Model Y a cooler appearance.
However, keep in mind that your Model Y comes standard with Gemini wheels, and Induction wheels cost an additional $2,000.
You are aware that the Tesla Model Y is a little pricier than other vehicles on the market, and for most individuals, investing an additional US$2,000 for aesthetics may not seem sensible.
Riding experience and comfort
It's Tesla Gemini wheels' area of specialization and those who choose Tesla Gemini wheels sacrifice style for comfort. They are more comfortable and provide a smoother ride than the Tesla Induction wheels because of their slightly larger sidewall and outside diameter.
Although the sensation of riding in a Model Y with Tesla Induction wheels isn't terrible, Tesla Gemini wheels will offer a far better ride.
Depending on the color of the Model Y we are selecting, the Tesla Gemini wheels give up a little in terms of aesthetics and range while still giving us comfort during our ride.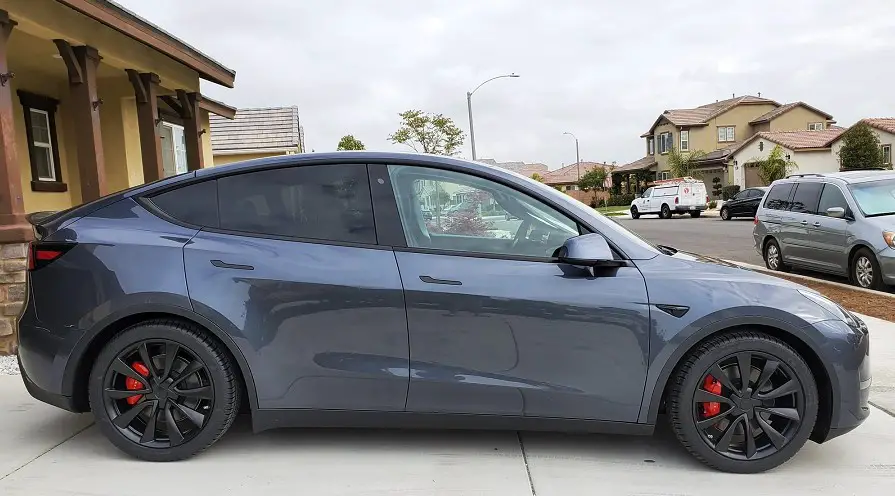 Efficiency
The Tesla Model Y has a 330-mile range, and Gemini wheels will maximize that range's effectiveness. 205 miles may be covered using Gemini wheels on a single charge.
Regarding the Tesla Induction wheels, they reduce the EPA's efficiency (the Environmental Protection Agency criteria) and range from 330 miles to 318 miles on a single charge.
Reselling
It's difficult to resale the Gemini wheels because they are stock Model Y wheels. Since they are included with Model Y, you get them for free. People buy a new set of Gemini wheels, only when the normal wheels break.
Induction wheels, on the other hand, are always purchased separately. As a result, it's much simpler to resell them, since customers can always use a used item if they can obtain it for less money.
The primary distinction between Induction wheels and Gemini wheels
The size and shape of Gemini and Induction wheels are what distinguishes them most from one another. Smaller 19-inch Gemini wheels come with a more aerodynamic silver surface.
A more commonplace steel wheel that some people really like is hidden behind the lid. Hubcaps can always be kept for longer journeys when a range is more essential than aerodynamics (range difference is 1% to 5%). After all, that is the reason their wheel covers are so ugly!
The Induction rims are larger 20′′ wheels with a curved metal design in gray and black. Except perhaps for the central bolts, there is no specific cover.
The two Tesla types of wheels may appear more fashionable to most people than the Gemini wheels, but each has advantages and drawbacks of its own. Let's look more closely.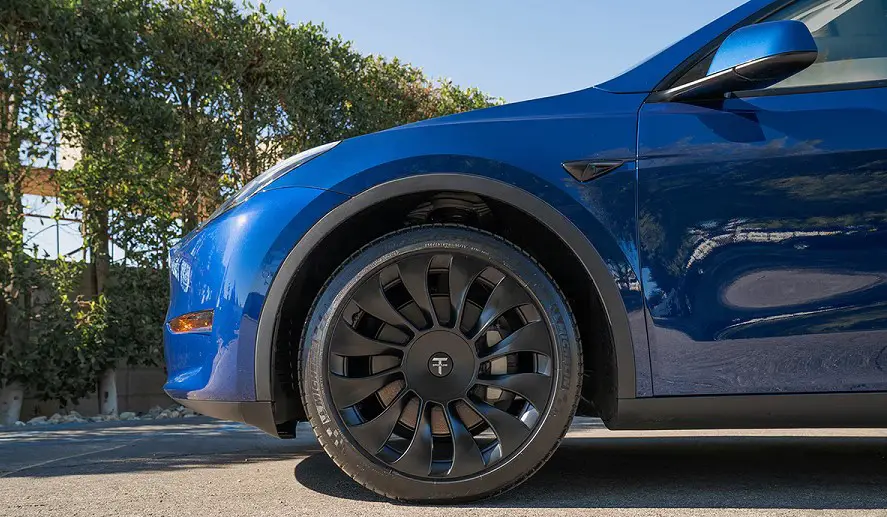 Wheel selection
The car's wheels are the next option; if you selected the Long Range engine, you have two wheel options.
19-inch twin wheels
Pre-selected wheels include 19-inch Gemini wheels and 20-inch Induction wheels.
If you choose a Performance transmission, the vehicle will come standard with 21-inch Uberturbine wheels; you cannot choose another set of wheels.
The most comfortable ride can be had with the 19′′ Gemini Wheels since they feature the smallest wheel diameter (19′′), which leaves more space in each wheel well for bigger tires. Taller tires typically offer more comfortable riding.
You get a little more range from the 19′′ Gemini Wheels' enhanced aerodynamic plastic snap-on hub-caps, which, for some, is a significant advantage. Depending on whoever you ask, estimates differ.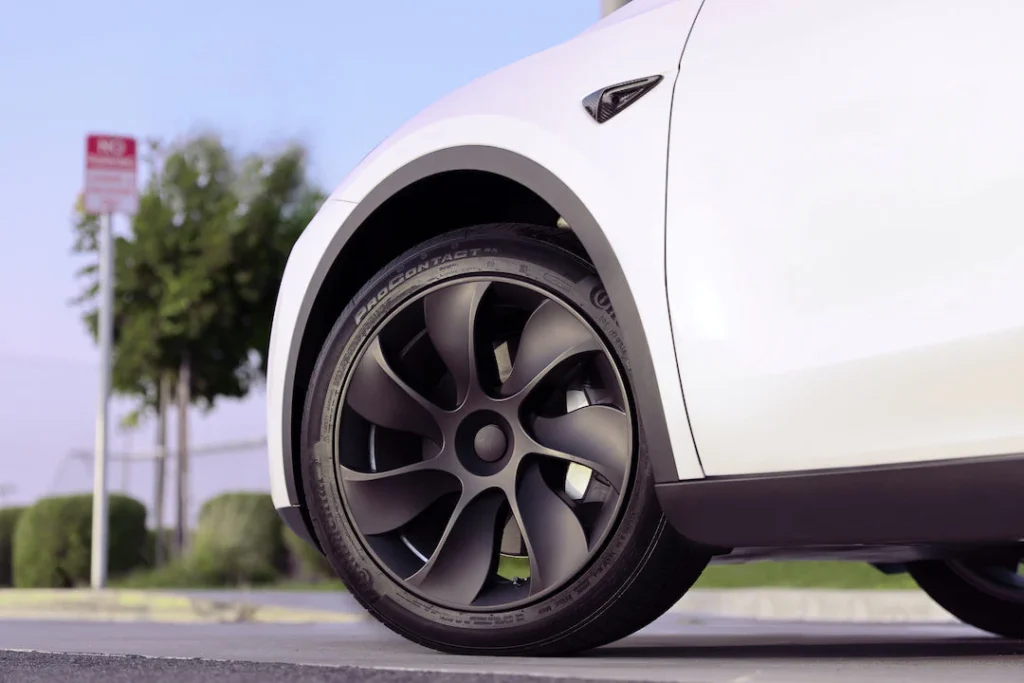 The "19-inch Gemini wheels" do, however, contain a bonus feature that Tesla doesn't specifically mention on its website. You can take off the plastic Gemini wheel covers if you prefer a sportier appearance (some people don't like the way the plastic Gemini wheels look).
As you take them off, you'll see really attractive 7-spoke silver wheels that are kept in place by metal clips.
Take off the wheel covers and store them in the trunk, garage, or basement.
Then, for increased effectiveness and range when you wish to go on a trip, simply snap them into place. Even if there is a fantastic, sporty-looking wheel still present, the wheel hole is still there. Find out more about the practical Tesla creep mode function here to make the journey as comfortable as possible.
There is a little round plastic cap that snaps into the center of each wheel to conceal the unsightly conventional steel nuts and the wheel's center hole, even if these wheels aren't covered in huge plastic caps.
Choose either the 19′′ Gemini wheels or the 20′′ Induction wheels if you didn't choose the "Performance" drivetrain option. Choose 19″ Gemini wheels and move on if you don't care or want to save $2,000 on your wheels.
Your new Model Y will come with 21-inch Uberturbine wheels if you chose the "Performance" drivetrain option. These wheels are lovely; however, they have a few shortcomings:
Less space is available for tires in the wheel arches because of their increased diameter. Because the tires are smaller, the ride will be rougher and there will be more tire blowouts.
Because of their greater size, they are fairly weighty. However, due to the large "unsprung mass," if you intend to race your Model Y, you won't have the best acceleration or braking (racers and vehicle experts know what that means).
They can't rotate the tires properly to maximize their durability because they are "shifted" front to back, which means the rear wheels and tires are wider (10.5 inches) than the front wheels and tires (9.5 inches).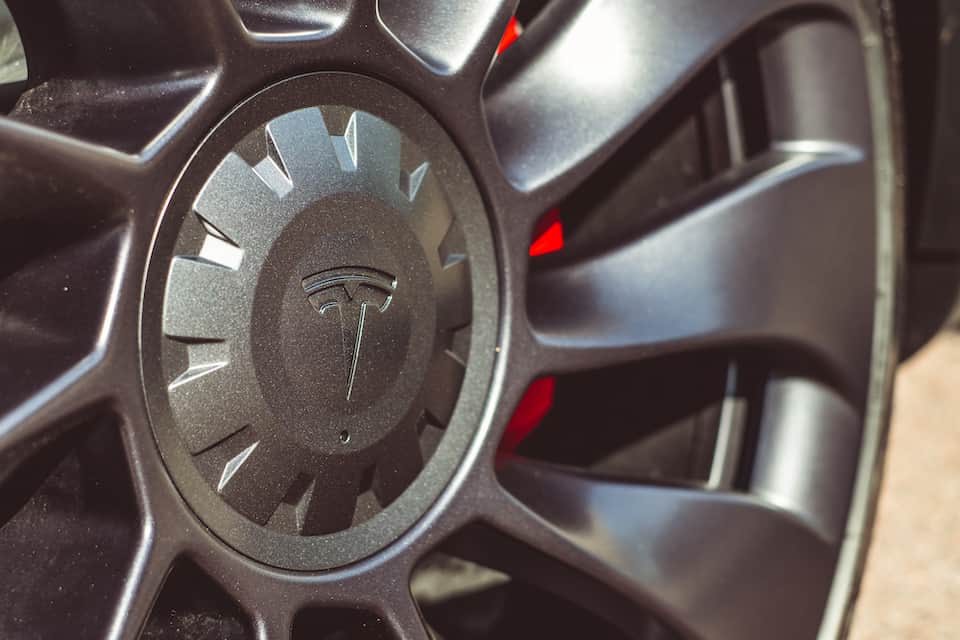 Uberturbine wheels for maximum beauty
The Performance Model Y could be the ideal vehicle for you if you have a few thousand dollars extra to spend.
Only the Performance Model Y is available with the 21-inch Uberturbine wheels, which adds around $5,000 to the price compared to the Long Range Model Y with 19-inch Gemini wheels or $3,000 to the price compared to the Long Range Model Y with 20-inch Induction wheels.
21-in Uberturbine Pros:
Most attractive wheel covers
On snowy and icy roads, handling, and performance are optimal
Most comfortable
Best for resale in terms of treadwear
The fastest 0-60 acceleration is available only when Performance is activated
Putting aesthetics before range and efficiency
When it comes to your vehicle's efficiency and range, the types of wheels you have on it will be a deciding factor.
So, one must consider whether their necessities will enable them to trade some range for better looks.
Tesla claims that if you choose to spend the extra $2,000 on the stylish 21-inch Uberturbine wheels for the Performance Model Y or the 20-inch Induction wheels, you will likely be sacrificing efficiency and reducing the EPA-rated range of 330 miles to anywhere between 318 and 303 miles. Only the Gemini wheels can travel the entire 330 miles.
Real Tesla owners who have tested the 19-inch Gemini against the larger wheel alternatives have seen a mileage reduction of 10-15 miles.
If you only care about the range on road trips and do not take many of them, this slight reduction in range would be worth it for the improved looks, handling, and performance that the larger wheels would provide.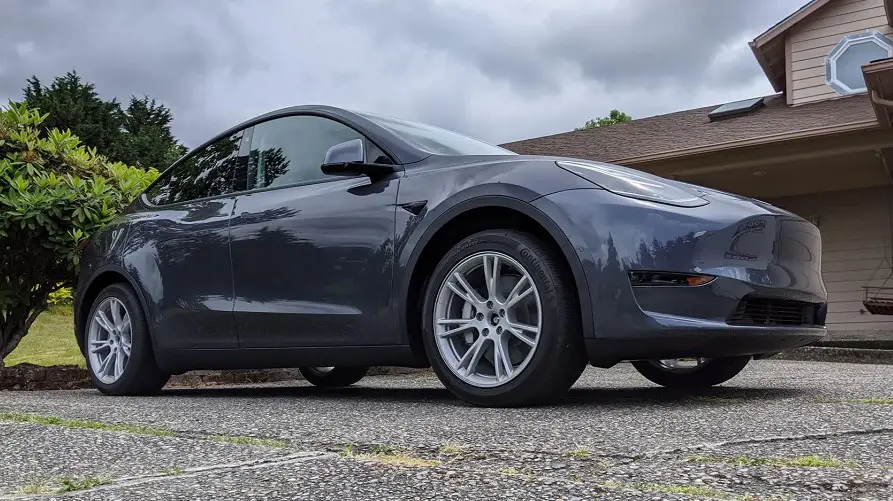 Final verdict: Gemini vs. Induction wheels
Tesla owners have a reputation for upgrading their cars for thousands of dollars. Hence, an extra $2,000 for the 20-inch Induction wheels might not be much of a deal. Regardless of the paint color you choose, they will look better on your Model Y than the Gemini wheels did.
Despite only being available on the Performance Model Y, which costs $5,000 more than the Long Range variant with 19-inch Gemini wheels, the Uberturbine wheels are by far the most appealing. The 20-inch Induction wheels may therefore be a smart compromise for finding stylish wheels at a significantly lower cost.
Frequently asked questions
Can I purchase new custom wheels for a Tesla?
Yes! If you bought aftermarket wheels, you could go to a Tesla Service Center, nearby tire shop, or mobile tire shop to have the stock Tesla wheels tires and TPMS (Tire Pressure Monitoring System) sensors transferred.
You can get new custom wheels (if the aftermarket wheels you bought for your new Tesla Model Y have the same wheel size (19, 20, or 21 inches) as the standard steel wheelset).
Do Gemini wheels fit on performance?
Yes! Choose the Performance model but do not check the box for the "Add Performance Upgrade" package if you want to add the optional Induction wheels. You have the choice of choosing either the 19″ Gemini wheels or the 20″ Induction wheels.
Also Read: Tesla Caves, Now Offers Round Steering Wheel On Model S and X